Where the art meets business life
Galeri 5 was founded by Anel Group in 2010 to support art and provide an area where young artists can exhibit their art works. Galeri 5, which ensures that art lovers meet international and domestic young artists in exhibitions of various branches of art, is located at the entrance of Anel Business Center. It organizes solo or group exhibitions in various branches of art in accordance with annual plan with the consultacy of Anel Group Corporate Communication Committee and Çelikel Education Foundation.
Click here to view the plan of Galeri 5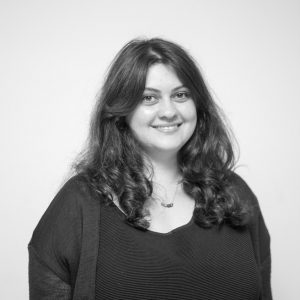 Consultant of Galeri 5
Gizem Karakaş (b. 1987), Istanbul based artist and art consultant
After finishing her bachelors degree in the Plastic Arts Department at École des Arts de la Sorbonne in 2009, Gizem Karakaş completed a masters degree in the Art and New Media Department at the same university in 2011. The artist has participated in group exhibitions at many art institutions including the Pera Museum, Akbank Sanat, santralistanbul, Centre Pompidou, and the Kasa Gallery.  Her solo exhibitions include "Your Last Chance to Visit the Studio!" (Galerist Studio, 2015) and "We are Not Innocent" (Depo Istanbul, 2019). (2019). Collective production and collaborations are another axis in Karakaş's practice.  She has been working with HAH and Hayırlı Evlat collectives since 2017. She has also been collaborating with Etem Şahin as Medyartiz collective on interactive performances since 2011.
In addition to her artistic production, from 2012 to 2017 she simultaneously worked as an artist liaison and visual communication specialist at Galerist, one of the leading contemporary art galleries in Turkey and as editorial coordinator at Art Unlimited, a bimonthly contemporary art magazine.  She has been an art advisor at Galeri 5 since 2015, and she has worked since 2017 as a Cultural Events Coordinator for the Istanbul Private Saint-Joseph French High School.
All aspects of art are together
Besides exhibitions, also live music shows are organized every week on Mondays between hours of 08:50-10:20 in cooperation with the students or graduates of music departments of universities.  We are giving moral and material support to young artists while our employees of the business center are starting the week with positive energy with such live music.